LAST DAYS OF SALE. BUY NOW OR CRY LATER
We have started the countdown to the end of sales.
This is the last opportunity to buy those beautiful pieces that are missing on our kids' closets - perfect transitional clothing to take to autumn or even next year.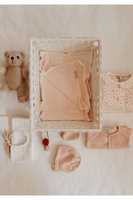 NEWBORN COLLECTION
Discover our Newborn Collection, the most sweet of all Grace Baby&Child's lines.
Specially designed for babies from 0 to 12 months, the garments are simple but not basic, with openings designed for an easy and very comfortable diaper change.
Emphasis on knitwear, perfect to easily dress newborn babies.
SHOP NOW
OUR KIND OF FASHION REVOLUTION
PRE-ORDER SYSTEM
Every collection, we place some new designs on pre-order. You can then pick and purchase your favourite styles, allowing us to figure out exactly how much to make. If you don't order it, we don't make it, eliminating overproduction while slowing fashion right down to a realistic pace.
SELL 1 BUY 1
By joining the SELL 1 BUY 1 program promoted by White Stamp we are part of a large network of brands in favor of the circular economy and our customers can trade their pre-loved items for new ones at Grace Baby&Child.
MADE TO LAST
We believe that fashion doesn't need to be seasonal and clothes must be made to last. That's why we are very demanding when choosing our raw materials and uncompromising in the quality of our confection.
UPCYCLED AND RECYCLED
In all collections, we look at what's left and think about how we can replace, reuse or transform those pieces and fabrics that accumulate in our warehouse. That is why, from time to time, you may find a pattern or style that sounds familiar to you in a different collection.
CRAFTED LOCALLY
All of our garments are designed in Portugal and manufactured in small quantities by carefully selected partners located no more than 70 kilometers away. That way we not only reduce the ecological footprint, but we also promote the local economy.
LESS PLASTIC AND PAPER
We recovered used boxes to ship clothing to our retailers, eliminated the paper in our packaging and started using the same plastic bags that protect our products. And whenever we need a plastic bag, we pick the old bags and reuse them.
Location
OFFICE & STORE
Avenida Doutor Porfirio da Silva, 127     4715-044 Braga . Portugal
Monday, 9h30 - 13h30
Tue-Fri, 9h30 - 13h30, 14h30 - 18h30
Saturday, 10h - 13h
+351 937 957 126